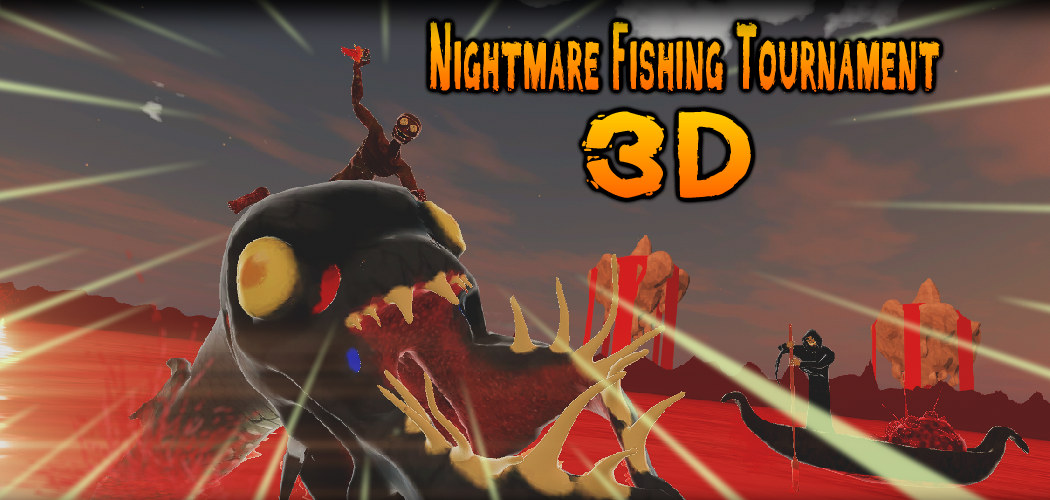 Nightmare Fishing Tournament 3D
A downloadable Horror Fishing Game for Windows
NOTE: SAVING and LOADING features coming in future updates, for now if you want to win, it's gotta be beaten in one sitting.

NIGHTMARE FISHING TOURNAMENT 3D
GOAL: Catch each specified fish before the round is over. Catch the heaviest fish to win the round, the fisherman with the most points at the end gets to return to the "Land of the Living."
Controls:
DRIVE BOAT/SWIMMING IN WATER: W,A,S,D Keys
ENTER/EXIT DRIVER SEAT: E
GRAB/PUT BACK FISHING POLE: F
JUMP OUT/CLIMB IN BOAT: Spacebar
DROP FISHING HOOK DOWN: S
REEL IN FISHING HOOK: Space (HOLD)
DROP SEAMINES: Left Alt
LOWER DIVING BELL: Left Shift
DROP CHUM: Left Ctrl
PAUSE MENU: Escape Key
TIPS & TRICKS
For a helpful guide on how to catch certain fish, I wrote up an article on the subject here: https://gamejolt.com/games/nightmarefishingtournament/263300/devlog/nightmare-fi...

-As rounds progress, you will need to catch fish at depths deeper than your starter line can go; use scales cut off fish to CRAFT longer and stronger lines!
-You can upgrade Health, Lung Capacity, Reel Speed, Grip, and more to get better and make the game easier to win. Learn the crafting formulas and collect the scales by battling fish.
-You can DOUBLE the money you earn by finding PEARLS hidden in CLAMS at the seafloor, but you need to buy a DIVING BELL to look for them.
-You don't have to WIN every round to advance, but the points add up, and you will NOT RECEIVE ANY POINTS if you fail to catch a fish before time is up, OR if you fail to get at least 3rd place in a round.
ABOUT THE GAME:
Nightmare Fishing Tournament 3D is a re imagining of the 2D game of the same name and concept I created about 9 months ago. In addition to making it a 3 dimensional experience, I hope to correct issues that were in the first game as well as add additional content I didn't get to add the first time around.

Install instructions
Just download the .zip file, drag the game folder to your desktop, and double click the NFT3D executable INSIDE the game folder ( Note, separating the .exe file from the other components will result in the game not being able to run )

Compatible with Windows.
Download
Download
Nihtmare Fishing Tournament 3D V.1.1.5.zip
547 MB
Comments
Log in with itch.io to leave a comment.
Thanks for hitting me up about the game Suits!
Once again David has managed to morph one of his 2D crackers into a 3D behemoth! I was especially excited to get stuck into this one as I was a big fan of the original. I was not disappointed.
As always, the graphics are succinctly glorious in the gory beauty, but also simplistic enough to not overpower PCs that err on the weaker side (my rig is teetering ever-closer to this status).
The gameplay is addictive, and with the ability to upgrade your various items on the fly as you're in the middle of fishing is a great way to segue between the fishing / stabbing action and the thrill of getting yourself a niftier boat and a meaner-looking fish stabbin' knife!
And it wouldn't be a typical Suits n' Nukes game without some awesome voice acting and music, and we have that in abundance! DJ Shrieks is awesome and all of the songs that play over the radio are equally awesome.
Another fantastic game, keep on churning 'em out and I'll keep on playing 'em! Looking forward to the save function in future updates =)
A surprisingly fun game. Fishing games usually suck, but this ones pretty good. One thing to note was the music overpowered the voice so it was hard to hear the npcs.